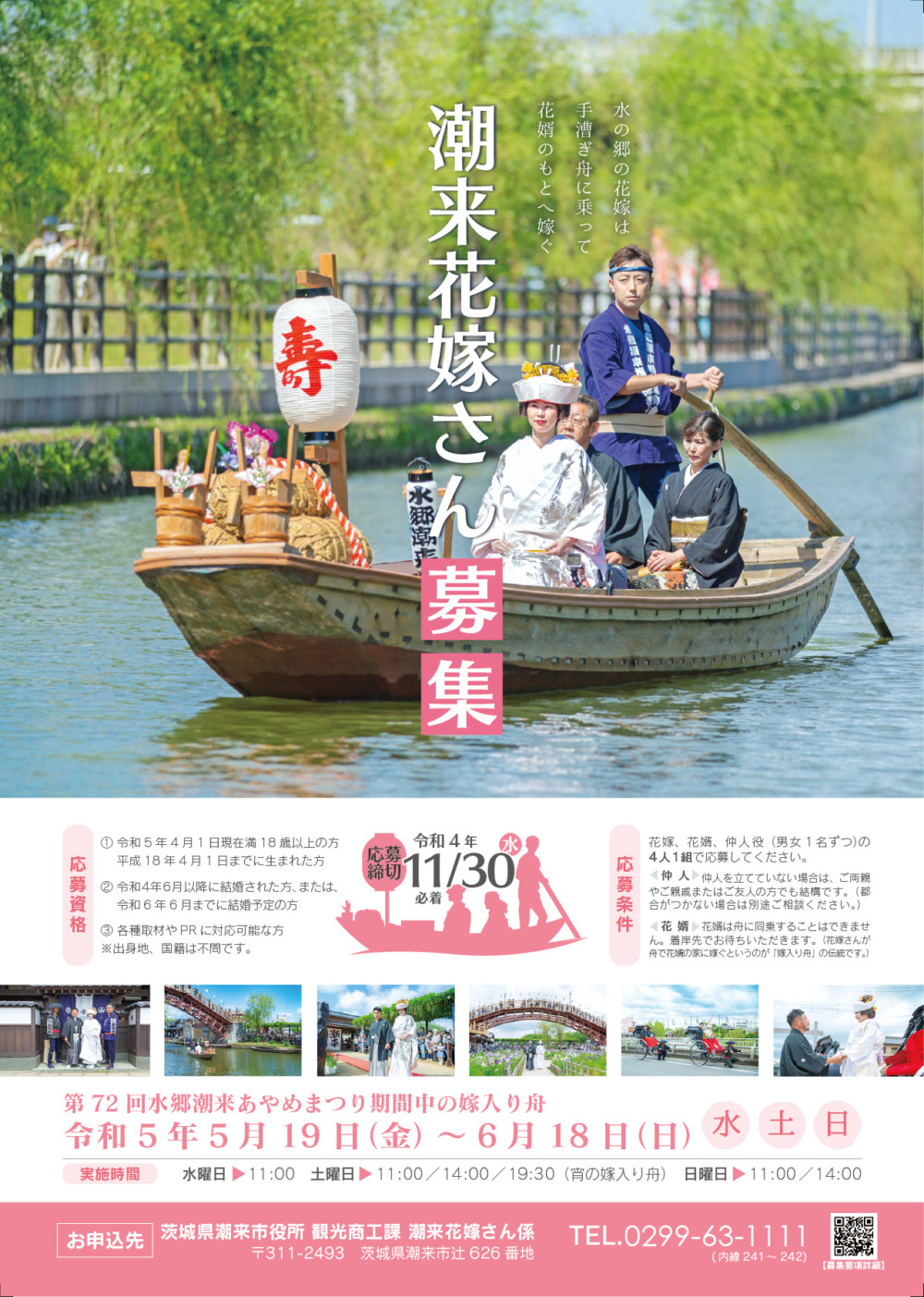 Marriage boat"YOMEIRI-BUNE" during the 72nd Suigo Itako Iris  Festival May 19 to June 18 , 2023
lmplementation time     Wednesday▶11:00  
                                                Saturday▶11:00/14:00/19:30(evening wedding  boat) 
                                                 Sunday▶11:00/14:00
♥Qualification requirements
1.Those who are 18 years old or older as of April 1, 2023 Those who were  born by April 1,2006.
2.Those who got married after June 2022,or those who plan to get married by June 2024.
3.Those who can handle various interviews and PR
※Hometown and nationality are irrelevant.
♥Application conditions
Please apply as a group of 4 people,one for the bride and groom and one for the matchmaker(one male and one female).
Matchmaker if you do not have a matchmaker,your parents,relatives or friends are fine.(Please contact us if you cannot agree.)
Riding with the bridegroom is not allowed.Please wait at the dock.(It is a tradition of "Yomeiribune"that the bride gets on the boat alone and gets married.
♥How to apply
Please fill out the prescribed application form,attach a color  photograph of  the upper body and a full-body photograph of the bride , and apply in person,by mail , or by e-mail. The designatd form is available at the city hall window , and can be downloaded from the Itako City website.
♥Apply by email
Send to: hanayome@city.itako.lg.jp Download the application form, fill in the necessary information, attach a photograph of the bride's upper body and full body, and send it to the following address.
※Please be sure to specify "Itako bride application" in the subject of the email.
※Please limit the size of the photo data to 3MB or less. (If the data volume is large, it cannot be received.) *After confirming the e-mail application, we will reply "reception completed". If you do not receive a reply, please contact us.
♥Recruitment period
November 1, 2020 (Tuesday) November 30, 2020 (Wednesday) 17:00 )
♥Cost burden
120,000 yen (Bride dressing, wig makeup, groom and matchmaker dressing (including hair styling for matchmakers), bride support fee (accompanied by hairdresser), bride taxi fee, 2 rickshaws, costume fee, souvenir fee, etc.)
♥About costumes
Costumes owned by Itako City can be used. Costumes are available for brides, grooms and matchmakers, but not all sizes are available. (You may bring your own.) We will guide you to a designated beauty salon in the city for getting ready and dressing. (Persons renting costumes in Itako City)
♥Announcement
We will contact you at the specified email address in mid-December 2022 (planned).
♥Notes
1. Please note that in the case of a large number of applicants, we may not be able to meet your requested date and time due to selection. 13
2. If the implementation date is bad weather, etc., it will be canceled or the course will be changed. 20